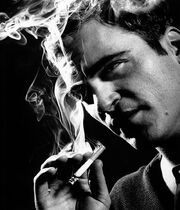 Francis Bird is an English businessman, linguist and politician, best known for his translation company,
Bird's Bildung Sprachliche Übersetzungen
. He is the more sensible (and angry) twin-brother of
Virgil Bird
, whom he employs
because no-one else would.
Presently, Francis lives with his wife in a large house in Mayfair, and is one of the only British citizens to own property there.
Francis Henry Bird

Born

Francis Henry Bird

June 16, 1914 (34)

Reading, England

Occupation

Manager of Bird's Bildung Sprachliche Übersetzungen (BBSU, Nazi Party Member

Height

5ft 10in

Hair Colour

Brown

Eye Colour

Brown

Spoken Languages

English, German, French, Polish